Why are we #HistoryRebels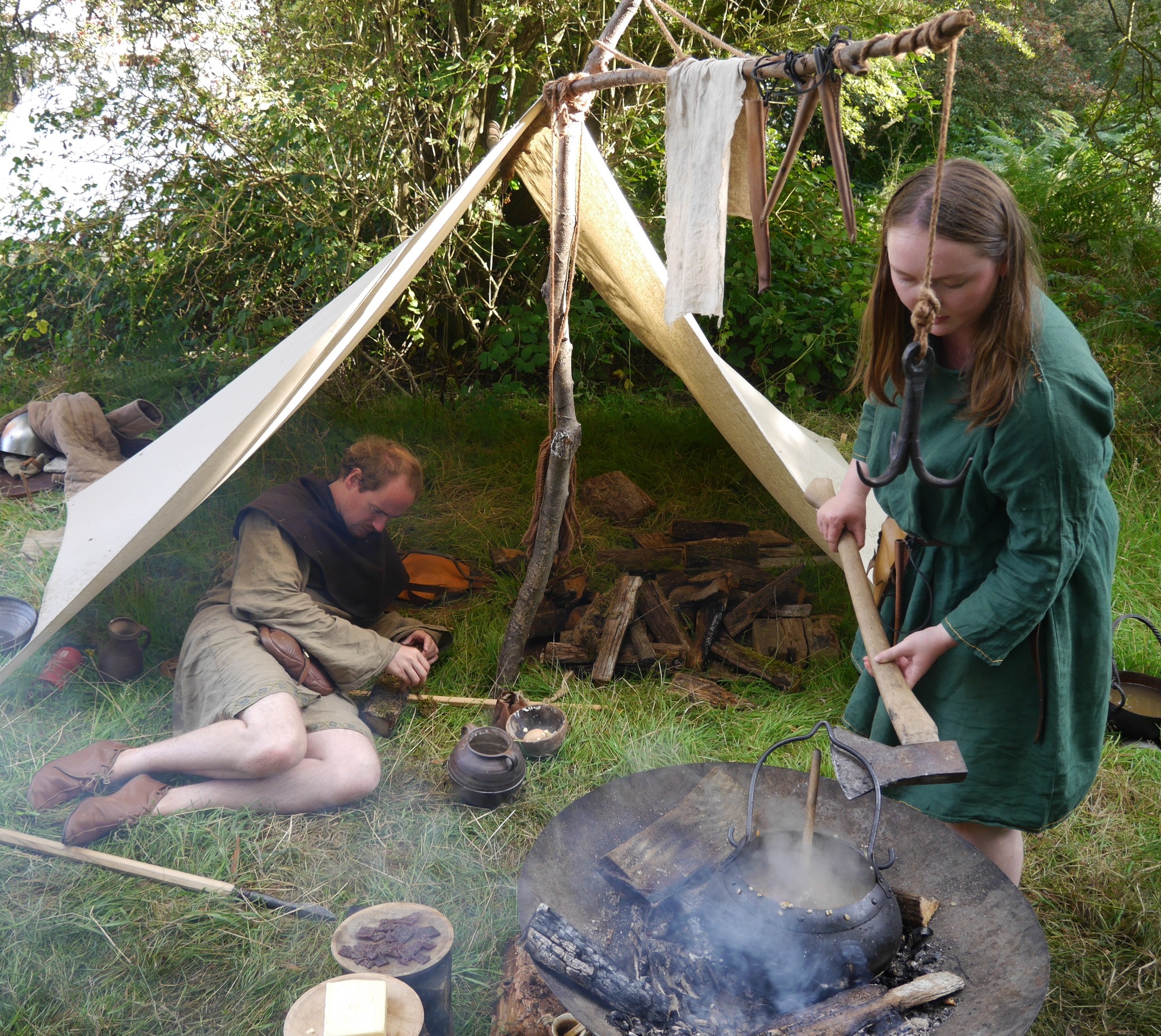 We love history, but the main thing is that you can enjoy your role, story and character yourself. We sell everything you need to tell your story and give meaning to your life, from elven ears to replica pottery. Everyone should have the freedom to empathize with their character the way they want. You can have studied Viking history, but still want to live and interpret your own version of a Viking. Your ancestors lived for you, they wanted you to be happy. And now it's your turn to live the way you want.
Become a History Rebel too and discover that 80,000 people have already preceded you!
Buy historical items with a modern service

Unlike many other LARP and reenactment companies, we offer a modern and fast service. For example, we expect that you need 24/7 customer service, always have a live view of your receipt date, ordered before 8 p.m., shipped the same day (unless you have bought something very exclusive), sometimes need advice via our live chat and if something is not right, you can just send it back. If something is damaged in the post, that's not your problem: we'll fix it for you. You don't have to worry about it.

We are not Neandertals and believe that this excellent service is part of modern life, to which History Rebels are entitled.

 
Celtic WebMerchant and the job market

| | |
| --- | --- |
|   | History teaches us that respect comes from proving yourself. We offer young people opportunities to prove themselves and take them seriously. The founders of CWM have been in this business for over 10 years. We try to pass on our knowledge to young people. For example, we train young people in coordinating and management tasks. In managing the flow of goods, as a product specialist, as a live support, copywriter, customer service representative and more. In short: we offer young people a fair job and salary in accordance with the collective labor agreement. Many other companies in this sector employ people as volunteers in the store and at festivals, while these are tough jobs. We disapprove of such practices! By buying from us, you support hardworking people who make their own lives. |
Join the #historyrebels
Tell your story your way
A modern life with a heart for your heritage
Choose who you want to be
Our team leaders
Patrick

For the future: More languages? A wider range? Maybe send by drone? Patrick's passion is to create strategies and set course to achieve them.
Judith

If you contact us, there is a good chance that you will speak to Judith. Accounting and purchasing are also for her account.

Nienke

Nienke is an all-rounder! She not only manages the logistics so that you receive your package, but as a content manager she also ensures that new products are added to our range every week.
We care about the climate
When packing your package, we try to take recycling of materials into account as much as possible. We reuse all the large boxes we receive deliveries for our warehouse for shipping large orders and long items. Is your package packed with plastic blue bags and bubble wrap? We also receive this material during deliveries and reuse it in shipments to customers. At Celtic WebMerchant, nothing is simply thrown away. Returns are also not destroyed with us, unlike several large webshops.
Projects
Over the years we have participated in many large and small projects, from museum to film and from escape room to living history. See below for a small selection of our customers:
| | | |
| --- | --- | --- |
| the Netherlands | UK | Australia |
| Allard Pierson Museum, Amsterdam | AccessCambridge Archaeology | Abbey Museum of Art and Archaeology, Caboolture |
| Archaeological Museum Haarlem | Beverly Minster |   |
| Amusement park Toverland | British Museum, London | Movie / TV |
| Biblical Culture Foundation | Canterbury Archaeological Trust | BBC (Dr Who) |
| Bureau Archeology Haarlem | Castle Douglas | ITV (Beowulf) |
| Eindhoven Museum | Dewa Roman Experience, Chester | Studio 100 (The House of Anubis) |
| Gelderland castles | Experience Barnsley Museum | Endemol (Various shows) |
| Municipality of Bodegraven | Fulham Palace Trust, London | Starz (The White Princess) |
| House of Hilde, Castricum | Glastonbury Abbey | Ghost House Pictures |
| Hunebed Center, Borger | Herford Museum | Redbad |
| Monastery Ter Apel | Inverness Museum and Art Gallery | Fire and Blood Productions (Game of Thrones) |
| Madurodam, The Hague | Jorvik Viking Centre, York |   |
| Museum, The Hague | King Richard III Visitor centre | Belgium |
| Museum Bergh, 's Heerenberg | National Maritime Museum Cornwall, Falmouth | Circus of Flanders |
| Museum Boerhaave, Leiden | National Museum of Scotland | Castle of Horst |
| Museum Dorestad, District near Duurstede | National Roman Legion Museum | Kunsthuis Opera Vlaanderen |
| Museum Gouda | National Roman Legion Museum Caerleon | Le domaine des Grotte de Han |
| The Valkhof Museum, Nijmegen | National Theatre, London | Museums Maaseik |
| Museum Castle Wijchen | NationalTrust | Provincial Archaeological Museum Velzeke |
| National Glass Museum Leerdam | Newcastle Castle | Provincial Gallo-Roman Museum, Tongeren |
| National Military Museum, Soest | Peterborough Museum | Roman Archaeological Museum Oudenburg |
| New Church, Amsterdam | Poole Museum | Municipal Fiertel Committee, Ronse |
| Provincial Gallo-Roman Museum | Royal Armouries, Leeds | The Outsider Coast, Nieuwpoort |
| Rijksmuseum Muiderslot | Shakespeare's Globe, London | Tourism Flanders |
| National Museum of Antiquities, Leiden | Society for Lincolnshire: History and Archaeology |   |
| City Museum Groenlo | The Bowes Museum | denmark |
| Thermal Museum, Heerlen | The Potteries Museum & Art Gallery, Stoke-on-Trent | Museum Ostjylland |
| Wallibi Holland | Victoria & Albert Museum, London | Museum Sønderjylland - Sønderborg Slot |
| Wildlands Adventure Zoo, Emmen |   | National Museum, Copenhagen |
| Zeeland Museum, Middelburg | Ireland | Ribe Viking Centre |
|   | Oreas Historical Services |   |
| Spain | Viking Triangle, Waterford | Norway |
| Museum of Badalona |   | Natural History Museum, University of Oslo |